Hey it's Coach Jon here again.
Nag negosyo ka na before?
Nalugi. Di kumita. Napagod ka. And deep inside you felt embarrassed?
Maybe napahiya ka sa friends mo, sa parents mo, or sa mga kapatid mo. People that you love the most.
Nobody wants to feel like a failure and it hurts.
Many aspiring entrepreneurs have been in those situations.
Oh well, guess what? You're not alone. I've been there many times too. Lost millions of Pesos in the process.
And guess what? (Again.)
The most successful Entrepreneurs in the world have been there too. In fact, they've been there many times more than we are. They failed more than they succeed.
And guess what? (again), who are the richest people in the world? Entrepreneurs.
My point is this: It's OK to fail. It's part of the learning process. By making mistakes, you're figuring out what's working and what isn't.
You'll discover things that those people who gave up easily will never know.
They'll think…"Minalas ako. Sinuwerte sya."
Or…"Kapalaran ko to. Maging mahirap." The victim mentality.
Hey, I know it's a cliché but the saying "try and try until you succeed" still holds true.
But you can't keep on trying what isn't working. You have to try different approaches and see the results. If it's not working, try a new approach and see the results. If it didn't work still, try again a different approach.
Keep doing that over and over again.
When are you going to stop? Until you succeed.
My first attempt in business was back in early 2000. Did my business prosper on my first try? Of course not.
On second try? Nope.
Third try? Nope.
Fourth try? Nope. And I lost Millions and many sleepless nights.
After all those failures I realized that I need to be in a business where I can utilize my strengths, passion, skills, and natural ability.
Without all those, my chances are slim to none.
It's like Lebron James trying to play a 3-pt shoot out against Steph Curry.
Or Steph playing low-post game against Lebron. That will not work either.
That's why I keep telling Entrepreneurs, time and time again, you need to play where your likelihood of succeeding is higher.
One business that failed miserably in the past was a Pharmacy store or botika.
Why did I fail? Here some of the few reasons:
I have no experience in retail at all.
I don't know anything about pharmacy.
I miscalculated the necessary capital. Akala ko sapat na. (Maraming namamatay sa akala.)
I don't have a mentor or experienced coach to help me.
I'm neither passionate nor excited about selling Biogesic, Alaxan, Imodium, at ng Sanitary Napkins (with wings.)
There are a lot of reasons why I failed to say the least.
But that failure led me to pause, ponder, and really study how successful people did it. Asking myself…"What are their secrets?"
I read lots of books, attended seminars, and enrolled in many courses. All those investments I made in my education returned multiple times.
And most importantly I was able to start a business and have a lifestyle that most people can only dream of.
Do you know where I'm sitting right now?
I'm writing this email from a small coffee shop in Venice Italy and sipping hot cappuccino. This is the place where many coffees originated from.
(Had to ask an Italian to take a photo of me purely through sign language. LOL)
Best of all, it's just few steps away from the world famous Grand Canal.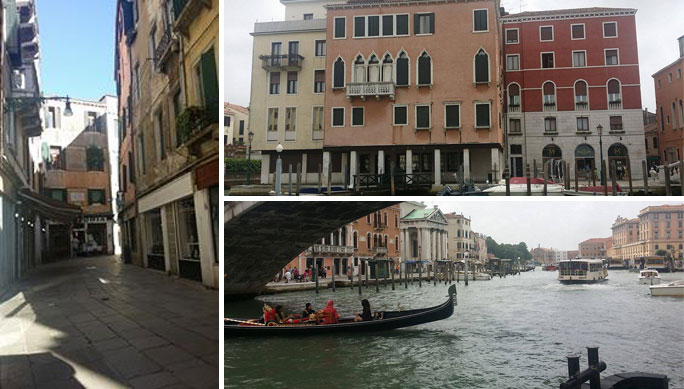 I'm saying this NOT to impress you but to impress upon you that a dream can come true if you'll only persist.
Start a business where you have higher chance of succeeding.